David Ghedini
Thursday Mar 21, 2019
DSpace: Display Number of Items in Community
To display the number of submissions for each Community, change value of "webui.strengths.show" from "false" to "true" in dspace.cfg as show below:

Note: By default, an index count will be performed in real time when pages are loaded. If you wish to prevent this, uncomment "webui.strengths.cache = true" and set the value to "false"

# Whether to display collection and community strengths (i.e. item counts)
# XMLUI only makes strengths available to themes if this is set to true!
# To show strengths in the XMLUI, you also need to create or use a theme which
# displays them.
webui.strengths.show = true

# if showing strengths, should they be counted in real time or
# fetched from cache?
#
# Counts fetched in real time will perform an actual count of the
# index contents every time a page with this feature is requested,
# which may not scale as well as a cached count.
# The default behaviour is to use a cache.
# webui.strengths.cache = true
Posted at 03:27AM Mar 21, 2019 by David in DSpace | Comments[0] | Tags: dspace | Export to: |
Tuesday Sep 05, 2017
After using NGASI App Manager for several years, we were pretty unhappy to learn they were going out of business.

We took the opportunity to develop our own Java provisioning system, CoffeeCP.

CoffeeCP is available for cPanel, as well as Virtualmin and Webmin (with other control panels soon to come).

It can be provisioned via WHMCS or directly on your servers.

Unlike NGASI, CoffeeCP is not a Java application itself, so it has a very small footprint.

Also unlike NGASI, it is not a separate control panel, users access all functions via cPanel, Webmin, etc..

The cPanel version is built with JSON and PHP and the Virtualmin and Webmin versions are built with Perl.

So, no extra overhead.

If you are or were a NGASI user, or just want to add Java to your hosting offerings, have a look at CoffeeCP

All plans include Unlimited Installations, so you also have the benefit of a fixed monthly overhead and won't need to buy additional licenses for each VM or server you turn up.


Posted at 04:56PM Sep 05, 2017 by David in Geronimo | Comments[0] | Tags: wildfly tomcat glassfish jetty | Export to: |
Tuesday Jul 11, 2017
If you are looking to turn up a full, Open Source GIS stack with the latest versions of all software, check out GeoHelm.

GeoHelm installs the latest, stable releases of

Apache Tomcat
Java
PostgreSQL
PostGIS
PgRouting
GeoServer

It takes only 10 minutes to install

It also provides a UI within Webmin for managing all aspects of the stack (see screenshot below)

Best of all, it doesn't get tangled-up in the software, the module can be completely deleted with no impact on the stack.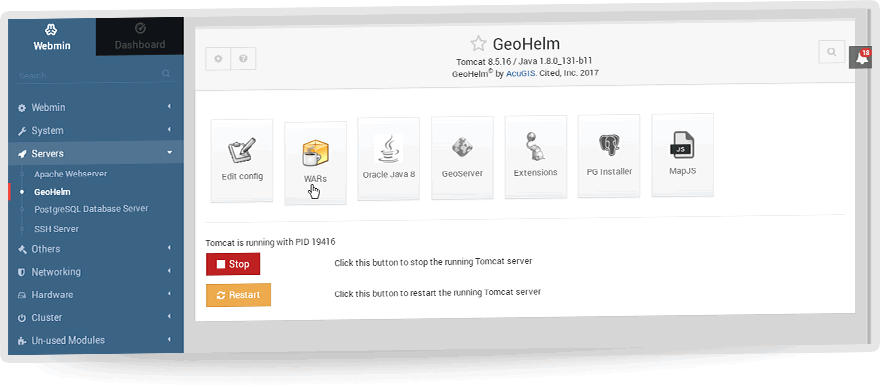 Posted at 03:57PM Jul 11, 2017 by David in Tomcat | Comments[0] | Tags: postgresql java postgis gis tomcat | Export to: |